Sara and Bylgja from Laxar share their views on feeding
Sara Atladottir and Bylgja Hálfdanardóttir work as feeding operators at Laxar Fiskeldi. Sara started her job in Laxar in January 2019 while studying aquaculture at University at Hólar. She spent 7 months as a technician before changing to the position of feeding operator. Bylgja got a summer job at Laxar in 2019 when she was studying Fishery Science at the University of Akureyri. After graduation in 2021, she was offered a full-time job as a feeding operator.
We had the pleasure of speaking with the two passionate feeding operators, as they shared their views and opinions on optimal feeding with us.
Laxar Fiskeldi ehf. is a salmon farming company in Iceland. It operates in Reydarfjordur where the company is licensed to produce 16000 tons of salmon in sea cages. It also operates hatcheries at Bakki and at Fiskalon in Olfus, in addition to a land-based facility in Thorlakshofn. In the long run, the company plans to increase salmon production in the eastern fjords to 25.000 tons. The majority owner of Laxar Fiskeldi is Måsøval Eiendom, a family-owned Norwegian company which has been in the salmon farming business for 45 years.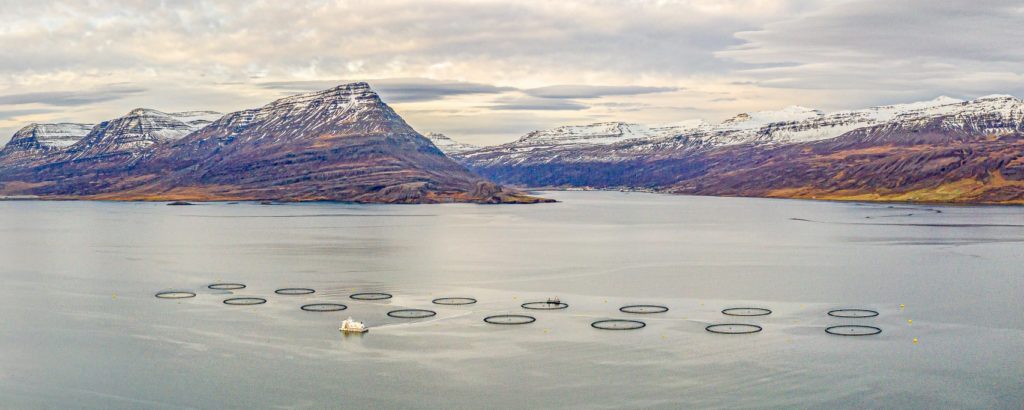 The importance of evaluating and discussing feeding scenarios every day
Sara and Bylgja have coinciding views on feeding, and they both see the importance of discussing and evaluating feeding scenarios every day. "If this job has taught us anything, it is that no day is the same and that feeding in two different sites is not the same thing", says Sara and Bylgja. They tell us that Iceland is a place of harsh weather and huge variations. Currents, weather and feeding conditions can vary greatly from one location to another, even if the distance between them is only a few kilometers apart.
They emphasize the benefits of discussing scenarios with a third-party. By doing this, they can both exchange knowledge and ideas that will help the feeding operator to do the job in the best way, while improving skills, knowledge and work ethics for them selfs and in the company.
"Discussing, viewing and evaluating the feeding results through the day is also beneficial to achieve the best possible feed conversion ratio", says Sara and Bylgja.
Three key success factors to optimal feeding
In sea-based salmon and trout production, feed costs alone can make up 50 to 60 per cent of the total cost of production. Feed waste and unrealized growth potential is then even more important to prevent so it can limit the costs and increase the profits.
Preventing feed spill through closer monitoring and dynamic feeding is key to practice optimal feeding, says Sara and Bylgja – and clearly state this as one of three key success factors.
A second key factor is having operators that have ambitions and motivations to grow, develop and learn every day. This implies that the fish farmers must encourage continuous skill improvement. "For example, having good control of the camera in the cage, good technique and a lot of patience often contributes positively to the job", says Sara and Bylgja.
The third factor, according to the two, is the technical equipment itself. The equipment is physically close to the fish, and therefore important for the salmon's well-being. They emphasize the importance of functional and practical equipment that does not harm the fish. The equipment is also what links the feeding operator to the fish, and therefore vital for the operator's ability to perform. In short, good equipment is very important for both the farmer and the fish.
Laxar Fiskeldi's collaboration with Spillfree
Laxar has a highly efficient and versatile staff with extensive experience and knowledge. The company place great emphasis on educating and training their employees, and everyone is encouraged to specialize. Sara and Bylgja says Spillfree helps them specialize in feeding and learn more about other feeding practices from people who have been in the game way longer.
They also highlight that Spillfree's tools for visualizing trends and monitoring results through the salmon's entire growth cycle is a valuable contribution. "Seeing visual and monitored results through the generation instead of seeing only end-generation results is a huge benefit for us," Sara and Bylgja says. This, they add, makes them more involved in the feeding, and the whole company can keep up to date on trends and statuses on each site.
They further emphasize that with the help from Spillfree, they can monitor how effective their feeding is and evaluate if sudden weather changes or other stressful events may have affected the fish's appetite in any way.
"Spillfree has improved our feeding methods – by brilliantly collecting, studying and giving out information that makes us and the industry more sufficient", they finish – and with those parting words, we can't help but think that the salmon at Laxar is in the best hands possible.