Spillfree is launching a new profile with a modernized look
In line with the different year 2020 and the era of digitization, we are proud to launch our new visual identity and website. With a clearer and more modern expression, we want to show that we represent a future-oriented and green industry, which we will help develop in a more positive and healthy direction. The new profile gives us the opportunity to show that we have gone from being a small company, to a leading international aquatech supplier in biological optimization. Spillfree collaborate with players along the entire Norwegian coast and internationally, which makes it extremely important to show presence and be available to the customer.
Blue and green profile
The rationale for our new logo's expression is simple. The logo is modern and has clear lines. It's colour is retained from our original logo as an element of recognition. The font chosen for the company's name is sturdy and compact, which harmonises better with the new symbol and emphasises a steady and powerful company. The symbol is based on a cube and a fish. In combination with each other, they has several connections to Spillfree. Immediately you may see a fish in a cage, as well as an eye that observes, or a camera that monitors. At the same time, we launch the slogan "Optimizing biological performance in modern aquaculture", which reflects our inner passion to make aquaculture production more profitable, sustainable and efficient.
A desire for a clearer role in the society
As a leading competence company in optimising biological performance, we have found a way to increase the production to salmon farmers. Our focus is on professionalising the feeding profession, by increasing awareness, motivation and competence about optimal feeding. Spillfree is growing but also wants a stronger role in society in the fight to achieve the UN climate goals. We are constantly looking for new customers and collaborations that share our ambition and interest.
The goal is satiated fish and less feed waste. Good for the fish, good for us.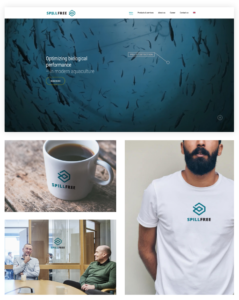 The new profile and website have been developed in collaboration with Increo, and we thank them for a good and solid collaboration.